"Part III: Obama Hope Case Study"


Within Part III about the Obama Hope case study, Laurie Gries provides four main themes related to the Obama Hope image (each a chapter in Part III) that she addresses through iconographic tracking:


"Obama Hope, Presidential Iconography, and the 2008 Election"
"Obama Hope, Fair Use, and Copyright"
"Obama Hope, Parody, and Satire"
"Obama Hope, Remix, and Global Activism"


These four case studies are rich with historical detail important for the story of Gries's research to make sense as well as to provide the reader with a holistic view of the various rhetorical situations in the case studies: Who were the actors? What were they doing? How was the Obama Hope image evolving and for what rhetorical purposes? The case studies are an effective way for Gries to clearly show that images may create quite multifaceted situations that act as catalysts for social change and disruption. Additionally, the case studies also function as an affective model for how researchers might be able to ask certain questions that can define the scope of research, which is such a valuable resource for researchers.

In "Obama Hope, Presidential Iconography, and the 2008 Election," Gries describes the convoluted history of what became the Obama Hope image and the ways in which Obama Hope became such a strong factor in President Obama's success during campaign time. Here, Gries discusses both the Obama Hope image as an influential work of art, relating it to other iconographic images (e.g., the iconic Che Guevara image) and she also traces the image's role in the formation of the grassroots movement to help earn votes for Obama. The availability and accessibility of Obama Hope through nonhuman actors such as the Internet clearly shows the evolution of the Obama Hope image into popular culture and media, all of which can be traced using iconographic tracking methods. Functionally, this overall investigation of the Obama Hope image illustrates how images can be empowered to "motivate political action" and "persuade a wide audience," as we know from President Obama's successful campaign during the 2008 election (p. 175). The primary purpose of this chapter is to prove that images can in fact function as actants or rhetorics through the role of Obama Hope in Obama's campaign. This case study effectively shows the bigger picture conversation surrounding the Obama Hope image and its (re)creation. However, it seems to generalize the rhetorical virality of the image in a way that may be somewhat confusing to readers because the chapter functions more as a product of Gries's research rather than as model for how other researchers can use iconographic tracking in their own research. As such, I would have liked to see more of a description of how Gries was able to trace the image's early history instead of a description of the early history, especially compared with the other three case studies that seem to function as more thorough models for engaging in this kind of research.

In the next case study, "Obama Hope, Fair Use, and Copyright," Gries recounts the controversial history of the image that became Obama Hope and the subsequent legal troubles. After much dispute concerning the identity of the original photographer of the photograph that became Obama Hope, and after the 2008 election, Shepard Fairey faced legal trouble from the Associated Press in 2009 because it was their photographer, Mannie Garcia, who captured the photograph from which Fairey (and Obama) were profiting, in one way or another (p. 181). In short, this legal battle created extensive conversation about the nature of copyright and fair use, not only in the judicial realm, but also in the social collective realm of online users, especially those who may have found themselves in similar, ambiguous situations. However, Gries argues throughout this chapter that this attention, even after the election, contributed to the further virality of the image while acting as a catalyst for public debate. In this case study, Gries nicely describes a controversial product of the Obama Hope image by showing the different collectives that ultimately took a stance in the fair use debate. Importantly, as a result of this controversy, Gries makes a nice transition between discussing how and why Obama Hope became a highly debated subject to highlighting the Principle of Consequentiality by explaining how the image ultimately became a site to educate people about fair use (p. 199). Additionally, this chapter serves as a helpful model to show researchers how to narrow a vastly complex image's life and discussion into a mangeable research topic by focusing on the collectives that formed as a result of the popularization of the image.

Gries's third case study, "Obama Hope, Parody, and Satire," deals with the "cybergenre" of Obamicons, or parody/satire images made in the style of the Obama Hope image (p. 202). In this chapter, Gries talks specifically about the commodification and fetishization of Obama Hope and its subsequent multiple selves on a domestic and global scale. Gries traces the commodification of Obama Hope to Africa, where products of all kinds can be found with some version of Obama Hope plastered on the item: biscuits, flip-flops, clocks, and so on (pp. 210–213). Many of the Obama Hope parodies have close relations with political dialogue—political dialogue that the everyday person can engage in by creating their own free Obamicons to share widely on the Internet. Additionally, with the advent of the Obamicon, we began to see various cultural, and especially pop-cultural, images appear online— images such as the popular TV series Game of Thrones "[P]IMP" image, pictured below (image reproduced from Gries, 2015, p. 237). Again, this chapter serves as a model for one specific path that a researcher may follow when using iconographic tracking. The Obama Hope image is somewhat of a unique case because it became a locus of such a massive rippling effect—enough to create an entire cybergenre—and I think that this chapter tries to consolidate that large conversation about how the circulation via parody and satire enabled the Obama Hope image to become a cultural icon.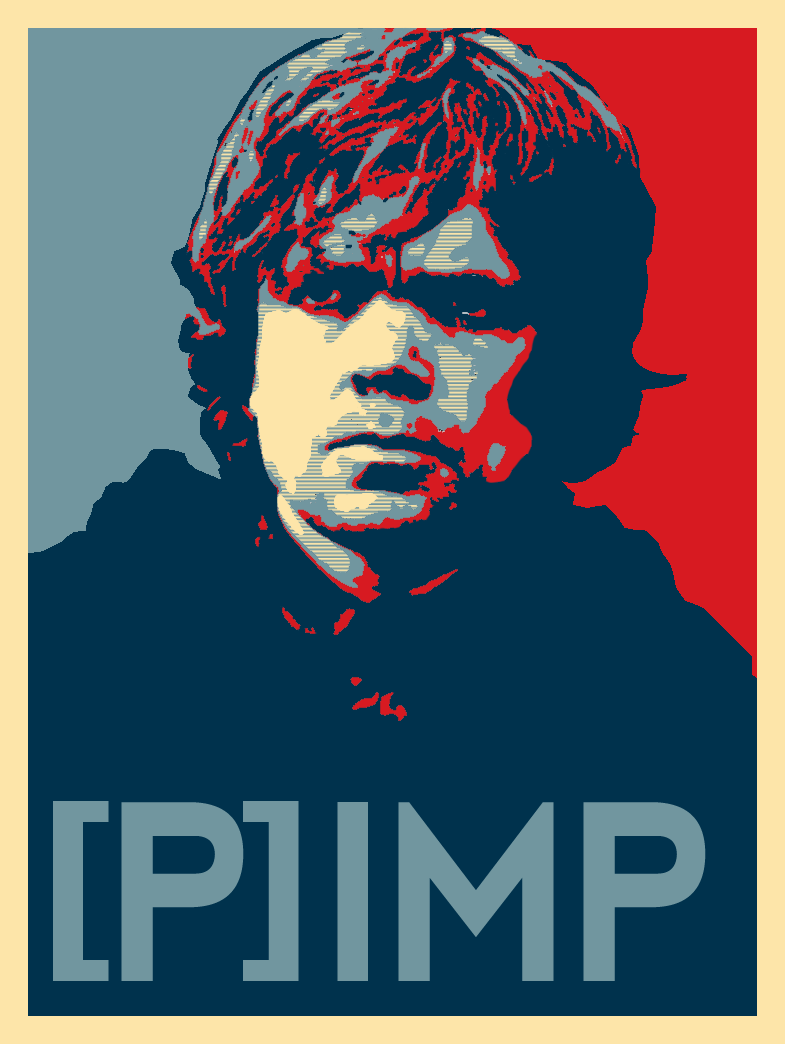 In her final case study, "Obama Hope, Remix, and Global Activism," Gries frames Obama Hope as a spark for social movement and activism globally. Gries shows how Greenpeace, an environmental activism group, created and employed Obamicons as political art and in protests. She also shows the global distances that Obama Hope and Obamicons made in many types of other political activist movements, such as the Sarkobama image against Nicolas Sarkozy (p. 225); Anonymous's Occupy Movement in the US (p. 259); and the Arab Spring movement, which spanned numerous countries including Libya, Iran, US, Turkey, England, and so forth (p. 267). This chapter most notably highlights the extent to which Obama Hope was able to make a global impact, or at least spur a variety of global dialogues concerning political injustices and resulting activist movements. Gries uses iconographic tracking to find, document, and trace the lives, actions, and motions of the images that represent movements and help mobilize people toward cultural, political, and social change. Gries illustrates how iconographic tracking is useful in this way as we can see the effects of an image globally and trace the instances of the image to analyze its role in activism discourses. Again, this chapter is a thorough example of how Gries was able to use iconographic tracking to address specific research questions and parse through the many different paths those research questions may lead.



Final Thoughts



While the beginning of the book is heavy in theory, I would have liked to see more direct rhetorical involvement throughout the main sections of each of Gries's case studies. It typically isn't until the concluding sections of her case studies, however, that Gries's rich, synthesized rhetorical analyses are presented and she ties in the main content of each chapter into the theoretical framework that she developed in Parts I and II. In these case studies, additionally, Gries tends to unfold events in a somewhat chronological order, but I think that it may be more helpful for the reader had she also been more explicit with her physical research steps and iconographic tracking throughout her research process rather than provide the reader with her conclusions via rhetorical analysis. That said, Gries has made a significant contribution to research methods and methodologies for rhetoricians and compositionists, and Still Life With Rhetoric serves as a welcome platform for Gries to introduce her method, iconographic tracking, that is necessary for researchers to responsibly analyze the rhetorical lives of images in digital spaces. The Obama Hope image is an exemplary text for this project because there is such a bounty of movement to track with this image, and it makes me eager and excited to see how others will use iconographic tracking in the future. Ultimately, I think that Still Life With Rhetoric has achieved its purpose of being an accessible tool for undergraduate and graduate visual rhetoric students to learn the iconographic tracking method.