Analyzing Arragement + Delivery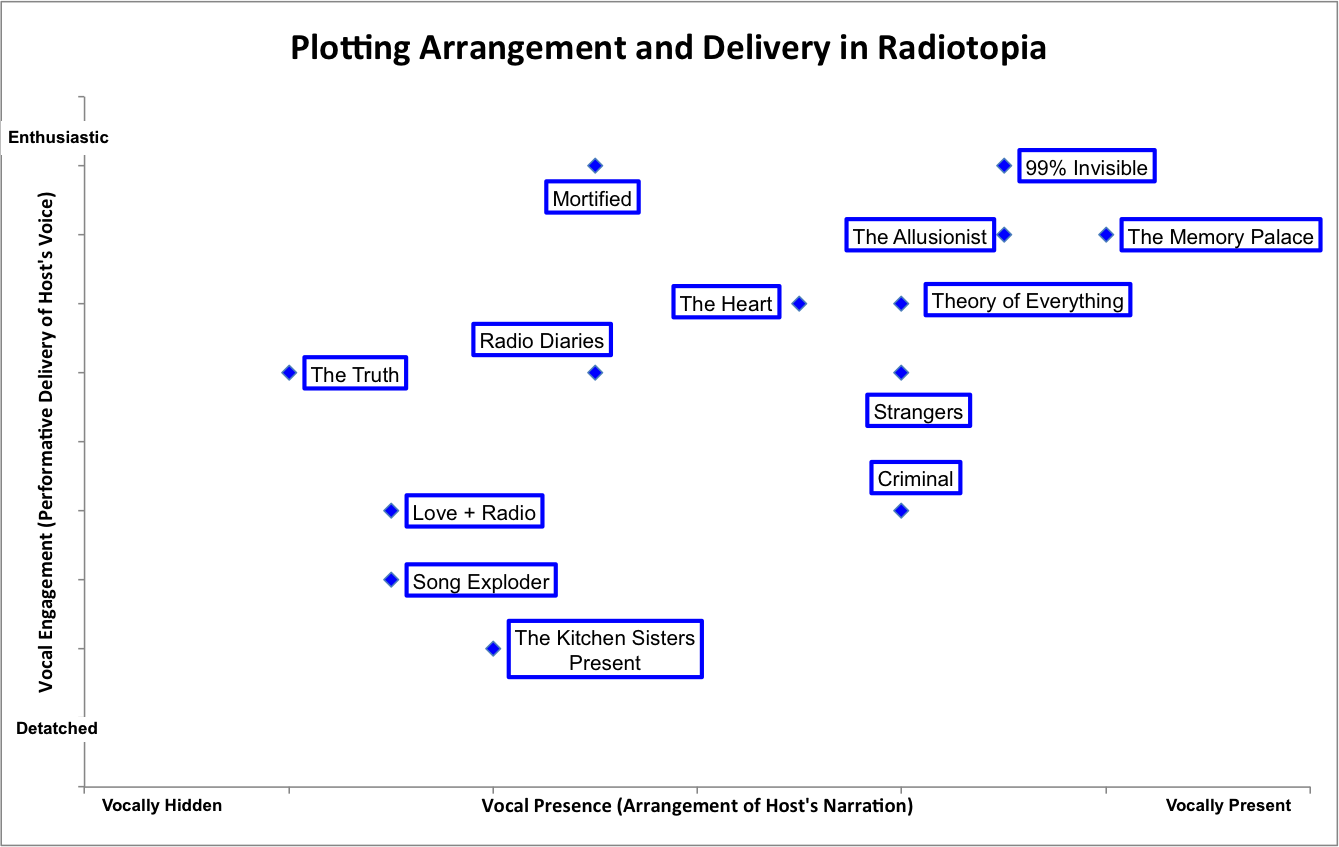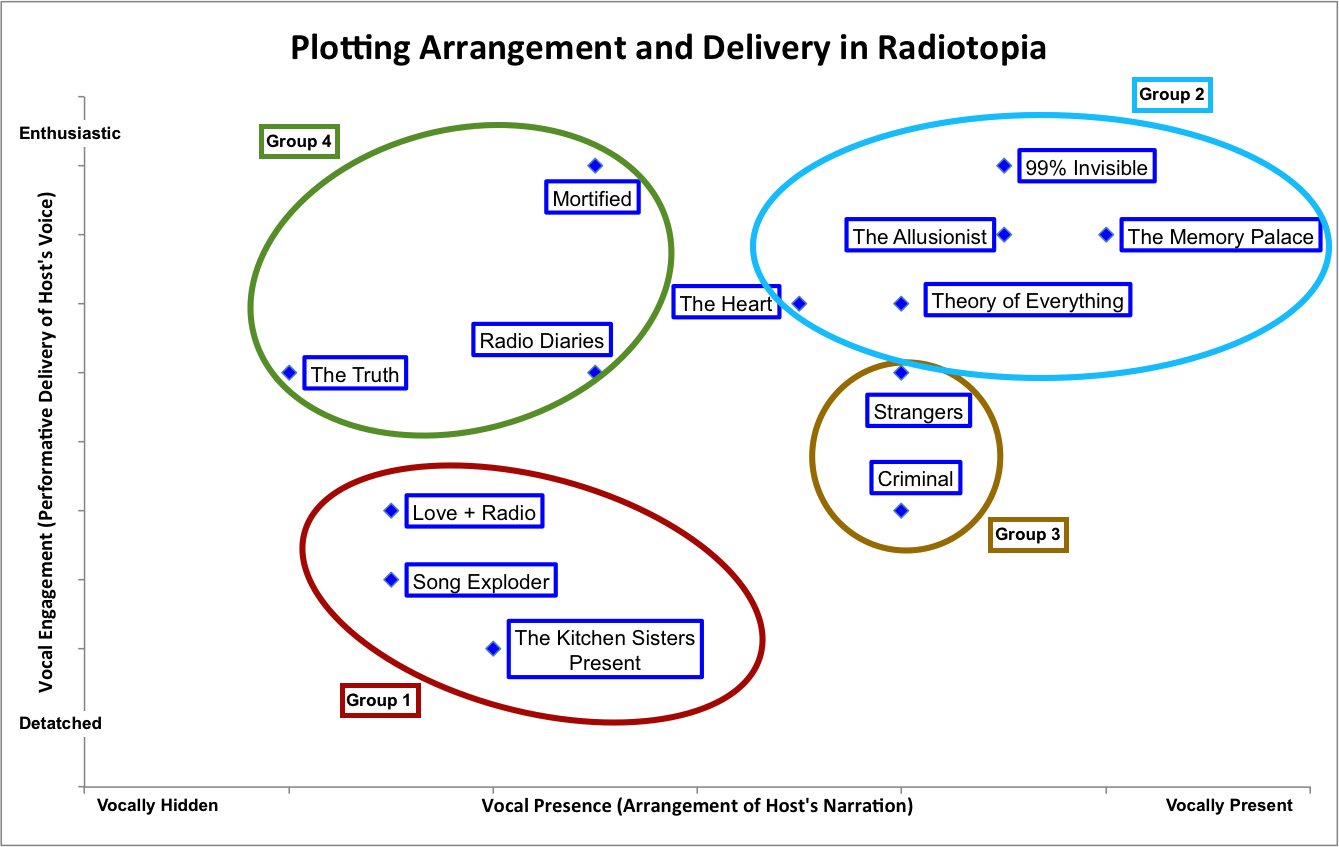 Group 1: Low Vocal Presence and Low Vocal Engagement
Love + Radio: Listeners hear host Nick van der Kolk at the beginning and end of episodes, as well as asking questions in the background, but he is mostly vocally hidden throughout with little explicit narration. He is also fairly detached in vocal performance of delivery.
The Kitchen Sisters Present: The eponymous hosts are noticeably absent from the majority of their episodes; instead, the listener hears a story woven together from a multitude of songs, sounds, and other voices. When providing the context and reading the credits, the hosts use subdued voices that sound detached from the subject matter.
Song Exploder: The show covers music, focusing on musicians who discuss the multiple elements of their compositions. Host Hriskikesh Hirway introduces and closes the show, but offers no commentary throughout. He is detached in delivery, not audibly endorsing music or artists with his voice.
Group 2: High Vocal Presence and High Vocal Engagement
99% Invisible: This podcast is one of the highest in both catagories. It covers "all the thought that goes into the things we don't think about—the unnoticed architecture and design that shape our world" (Radiotopia, 2018), and their sound design in arrangement and delivery mirrors the attention to design signaled in the description. Mars guides us through each episode, with him or other producers providing commentary and signposts throughout, sharing their enthusiasm about the subject. These high numbers show how arrangement and delivery can overlap to feed one another, in the crafting of a show that has struck chords with a large audience, winning best podcast in 2016 (Webby Awards, 2016).
The Allusionist: Host Helen Zaltzman is vocally present throughout each episode, introducing the episodes, often conducting an interview with an expert, and walking the listener through meanings and chronologies of words. Zaltzman is also fairly vocally engaged in her delivery, although she does take a more objective stance on language while admitting the fluidity of language.
The Memory Palace: Unique among Radiotopia podcast hosts, Nate DiMeo hosts the entire show with no other voices or clips. He is on the upper end of vocal presence. He is also enthusiastic in delivery, describing events with a poetical flourish.
The Heart: Focusing on love and emotions outside of the mainstream, including homosexual cowboys ("The Lost Pardner") or trans-sexuality and age-play ("How to be a Princess"), the hosts Kaitlin and Mitra narrate most shows, but not all, sometimes having a dramatic retelling instead. Their voices are not objectively detached, but contain energy and some excitement.
Group 3: High Vocal Presence and High Vocal Engagement
Strangers: Thau is vocally present throughout most of the stories by narrating and commenting on events. She has explained that she doesn't see herself as a journalist. Instead, she becomes friends with many of the people she interviews (Rosental, 2014). Regarding vocal engagement, Thau is somewhat reserved, speaking evenly to and about her subjects, sharing personal details but not carrying overt emotion in her voice.
Criminal: Host Phoebe Judge is present in interviews and contributes context throughout the episodes. However, unlike most of the other shows in Radiotopia that have a high level of vocal presence, she cultivates a more detached vocal delivery. Perhaps, in this case delivery is tied to invention; if she were too enthusiastic, it could be interpreted as an endorsement of crime or criminals.
Group 4: Higher on Vocal Engagement than Vocal Presence
Mortified: A hybrid podcast where "adults share the embarrassing things they created as kids—diaries, letters, lyrics & beyond—in front of total strangers" (Radiotopia, 2018). The podcast consists of a person reading their childhood writing in front of an audience, and then an interview with a host. The host is present at the beginning and interviews the subject at the end, thus evaluated at the middle of vocal presence. But the tone of the show is lighthearted and all are vocally engaged throughout.
Radio Diaries: Some of the episodes of this podcast are more heavily narrated than others and some have more enthusiastic vocal engagement from host Joe Richman. These balance out when listening across episodes, and thus I've placed Radio Diaries near the center of each category. This is the most centric of all shows charted.
The Truth: Unlike the other podcasts in Radiotopia, The Truth features entirely fictive audio, described as "dramatic short stories that combine great writing with authentic-feeling performances and rich sound design" (Radiotopia, 2018). Host Johnathon Mitchell introduces a story and reads the credits afterward, but does not participate in the drama. He is more enthusiastic than detached, but falls in the midrange when compared to the other Radiotopia hosts.