Digital Ethics: Rhetoric and Responsibility in Online Aggression, edited by Jessica Reyman & Derek M. Sparby
Review by Bailey Poland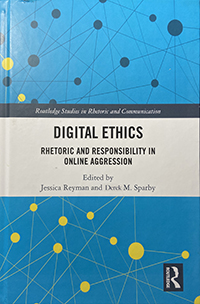 Digital Ethics: Rhetoric and Responsibility in Online Aggression, edited by Jessica Reyman and Derek M. Sparby (2020), is a necessary and welcome addition to conversations in the field about digital rhetorics, life online, and the cost of online aggression. Reyman and Sparby wrote in their introduction that the collection "provides a discussion of what principles, based on research and theory in rhetoric and composition, should guide our thinking about responsibility, accountability, and ethics" online (p. 2).
The discussions provided in Digital Ethics are worth participating in, with chapters on a range of topics likely to be of interest to researchers and teachers of digital rhetoric and writing—including analysis of hateware (Brown & Hennis), observations about similarities between academic and digital aggression (Manivannan), connections between video games and white supremacy (Condis), and disability and digital aggression (Kennedy & Wilson). Each chapter invites readers to focus their attention on a particular digital ill and, most critically, figure out what to do about it.
Navigating the Review
Digital Ethics is organized into four main sections: Ethics of Interfaces and Platforms; Academic Labor in Digital Publics; Cultural Narratives in Hostile Discourses; and Circulation and Amplification of Digital Aggression. Although this review uses a different organization to draw attention to other connections, the thematic links between chapters in the book are helpful and productive (and Reyman and Sparby suggested some other potential reading orders themselves, focusing on civic engagement, the perpetuation of hostility, pedagogy, methodology, technology design, and community moderation).
Each section of this review contains a guide at the side or bottom of the screen, showing which chapters have been discussed and connecting the alternate reading path to the original order of chapters and sections in Digital Ethics. A full list of chapters is available on this home page (below on narrow screens; to the left on wider sreens), and the list on each subsequent page of the review contains only the referenced chapters.
Scholars interested in the role of digital rhetoric in the classroom, the academy, and the world at large are likely to find numerous chapters of significant interest and value in this collection, and the review is organized along those lines.