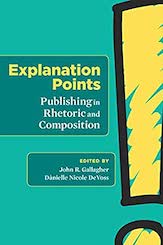 Explanation Points: Publishing in Rhetoric and Composition
Edited by John R. Gallagher and Dànielle Nicole DeVoss
Review by Keaton Lamle
Utah State University Press, 2019.
ISBN: 978-1-60732-882-7.
Introduction
In one of the chapters in Explanation Points: Publishing in Rhetoric and Composition (Utah State University Press), "It's All About Fit: Finding Your Particular Publication," Kathryn Comer nicely captures the publication dilemma many graduate students and emerging academics face, while also gesturing towards the raison d'etre for the book. Comparing the confusing process of permeating academic publications to an ill-advised startup scheme called "Underwear Gnomes" from the raunchy animated show South Park, Comer observes that for many of us, plans to publish often resemble rowdy eight-year-old Eric Cartman's half-baked scheme to profit off underwear theft:
Phase 1: Collect underpants

Phase 2: ?

Phase 3: Profit (p. 184)
In other words, when it comes to academic publication, many scholars experience a gap between where they are and where they want to be, and what's missing is the practical know-how that bridges intention and action to actual results. While Explanation Points is not a rote "how-to" guide for getting ideas into print, editors John Gallagher and Dànielle Nicole DeVoss explain that the book does exist to "collect, curate, and archive the best advice on publishing our field has to offer" (p. 3), and it does so by capturing the colloquial "take it from me" tone in which such advice is offered at conferences or office meetings. The result is a helpful, readable collection edited for cohesion around a single goal: bring those private conversations that unlock the publication process out into the open in as accessible a manner as possible. If this sounds like a similar mandate to Gary Olson and Todd Taylor's 1997 collection, Publishing in Rhetoric and Composition, the resemblance is intentional. Gallagher and DeVoss explain that two decades (roughly the interval between the publication of Olson and Taylor's book and this collection) seems like an ideal interval for updating the concept, especially in a field that has broadened to encompass a wider range of subdisciplines, a variety of faculty workload models, and new digital publishing modalities (even if this latter element arguably receives insufficient attention in the pages of Explanation Points).
Summary
In the book's introduction, editors Gallagher and DeVoss preview the project by sharing its "origin story": An editor gave Gallagher helpful advice about how to keep readers engaged through endings, and in response Gallagher thought, Ya know, it would be nice if there was a book that succinctly captured just that kind of editorial wisdom. DeVoss, who has edited numerous useful collections in recent years, agreed, and they put out a CFP to begin the project. Gallagher and DeVoss are ideal candidates for curating just such a book. Gallagher has written about the unique norms of digital writing, while DeVoss's research covers subjects as disparate as copyright law in a digital age and the visual rhetoricity of letterforms. In fact, the authors' backgrounds in digital writing and rhetoric might lead readers to expect more engagement with technology than is actually present in this collection—while issues as esoteric as copyright arrangements are discussed, digital rhetoric and web-writing don't command much space here. That said, the authors' broad range of expertise serves the project well, enabling the collection to convincingly address everything from ideation and research routines to the stress of navigating the labyrinth of publication options and agreements available to contemporary academic writers. In the process, Gallagher and DeVoss gather pieces from well-known authors in the field (e.g., Andrea Abernethy Lunsford, Joseph Harris, Linda Flower) as well as emerging voices.
It's worth noting that this book is targeted primarily at those interested in publishing research, and the few mentions of pedagogy that do appear do so only in order to demonstrate ways in which heavily worked contingent and junior faculty might leverage their teaching practice as the springboard for publication. As such, the collection leans heavily towards the "research" side of the teaching–research continuum.
Next