Seasonal Flu and Risk Perception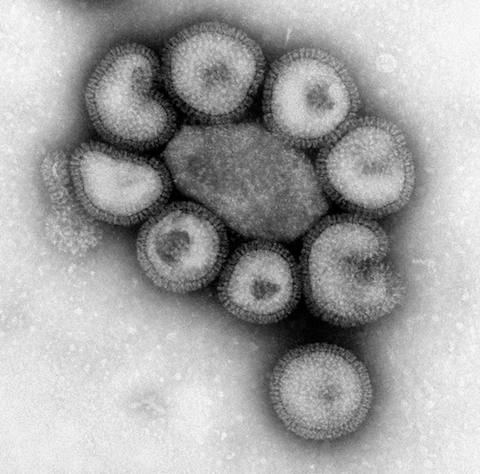 Think about the last time you had flu-like symptoms. How did you feel? Did you have
a fever?
a headache?
a sore throat?
congestion?
body aches?
If you had one or more of these symptoms, you may have felt ill enough to stay home for a day or two, perhaps longer, and you may have been run down for a week or so thereafter. But chances are, if you're a healthy adult between the ages of about 18 and 65, you easily made a full recovery. Indeed, most healthy people tend to not be overly concerned about getting the flu. Rather, they perceive the illness as "a minor nuisance," as Peter Sandman and Jody Lanard (2005, p. 4) put it, because they usually do not become severely ill and/or experience life-threatening consequences.
From a public health perspective, however, the virus continues to pose a major health threat. In the United States, for instance, the Centers for Disease Control and Prevention (CDC, 2016c) estimated that "millions of people are sickened, hundreds of thousands are hospitalized[,] and thousands or tens of thousands of people die from flu every year."
The annual flu season generally runs from October to May (CDC, 2016c), and educational materials, particularly those that promote the flu shot, are usually disseminated in the fall and early winter because it takes a couple of weeks for the vaccine to become effective. For instance, the Facebook page for the University of Delaware's (UD) Healthy HENS (2015), a program affiliated with the university's Student Health Service, showed a status update posted in December during the 2015–16 flu season reminding students to get vaccinated.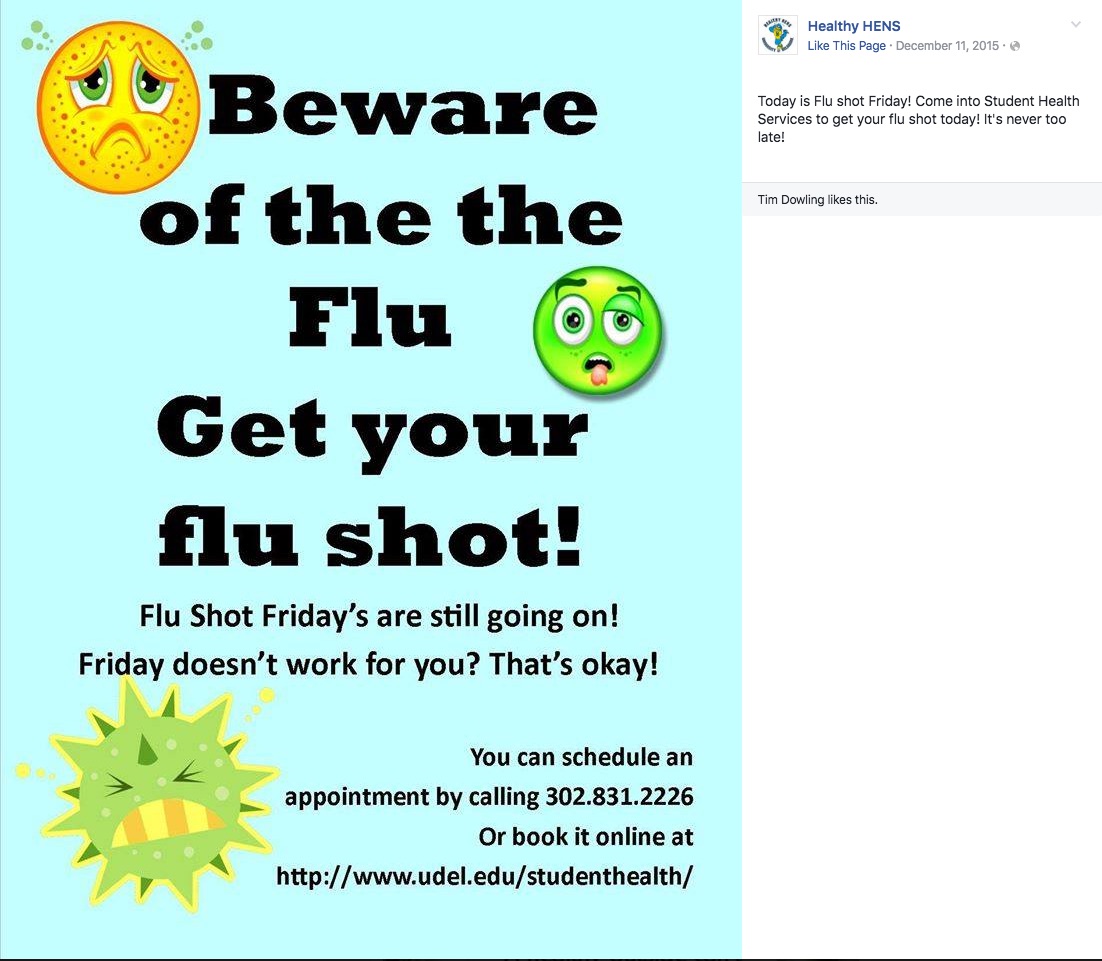 Such health-related information is often communicated using visuals as the "Flu Shot Fridays" flyer demonstrates through its frowning sun, green "sick" face, and grimacing, yellow-green virus in the lower left-hand corner. Most public, non-expert audiences in the United States who might see this flyer (UD students, faculty, staff, and community members, for instance) are likely to easily understand how these visuals contribute to the flyer's overall message because they are proficient in the visual literacies needed to understand this aspect of the overall message.
Indeed, visual literacy—the ability to interpret, construct meaning from, and produce visual forms—has long played a central role in art and design-related fields (e.g., Arnheim, 1969; Dondis, 1974; Elkins, 2009; Kress & van Leeuwen, 2006; Messaris, 1994). Over the past few decades, recognition of the importance of visual communication has also proliferated to other disciplines, reflecting what W. J. T. Mitchell (1994) has described as a "pictorial turn" (p. 11). This shift also lends insight into why non-expert readers can often easily understand and process health-related information conveyed visually, such as the illustrations in the "Flu Shot Fridays" flyer.
At the same time, research on visual literacies among non-experts tends to position visuals as supplementary to textual content, touted as a strategy for improving readers' comprehension (Osborne, 2006), and for communicating with audiences who are less proficient in alphabetic literacies (e.g., Houts, Doak, Doak, & Loscalzo, 2006) as well as culturally diverse groups (Kreuter, Lukwago, Bucholtz, Clark, & Sanders-Thompson, 2002).
In this section, I explore the ways that non-experts' visual literacy practices are both enabled and constrained by how health and disease are viewed in Western cultures by theorizing the visual conventions used in the mapping features of a crowdsourced flu-tracking program called Flu Near You (FNY): www.flunearyou.org. By viewing FNY's maps to better understand if seasonal flu is spreading in their area, public audiences engage in a range of visual literacy practices that they may then use to make health-related decisions related to flu prevention like deciding whether to get the flu shot and/or to sanitize their hands more frequently when flu is spreading.